Ode to Oly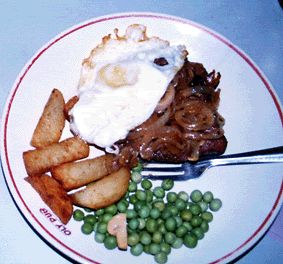 Olypub or Olympia Bar and Restaurant (fondly called Oly by the regulars), is an institution for atleast 3 generations of Calcuttans now. Oly can be thought of as the Coffee House equivalent for the boozers, one of the cheapest possible place for a drink after office. What is fascinating about Oly is that it has stood almost unchanged and uncompromised from soulless beauties the current age throws us into.
In the sixties Oly was a favourite haunt for the Ad agency guys from Park Street and the sorrounding area. In the seventies it has been frequented by the young intellectuals(??) and the so called Communists. The eighties saw somewhat decline in their crowd quality as this time, continuing till mid ninties it has been infested by Maroo businessmen and their kin and the promoter types getting new taste of money.
The late ninties and the new millenia saw the renewed interest in Oly as again students and young professionals started frequenting along with some old time regulars. Yes, Oly has a die hard regular following, mostly the clerks from adjoining government offices.
The place opens at 11 am and the narrow side annexe to the older main establishment, Olympia Bar, leads to steep, rickety steps which display no embarrassment at the cheap and frayed coir matting adorning them, before opening out into the low-ceilinged mezzanine floor which constitutes the bar proper and which is further subdivided into two sections, connected by a stair of 4/5 steps.
Technically called Olympia Bar and Restaurant, Olypub is one of the best watering holes in Calcutta. It definitely isn't a "pub" in any sense of the word. More like an old fashioned restaurant who specialise in serving alcohol at prices that are affordable. The waiters are kind people who while measuring out a peg let the cup overflow generously which results in you getting an extra 5 ml of booze with your prescribed 60ml peg. The rates are affordable to the common man, with a bottle of beer still priced at around 50 rupees. Pegs of rum and vodka are available at a ludicrous 34 rupees per peg. The snacks range from ordinary to excellent but one notable exception is the beefsteak which sensible cow-eaters, Hindu or otherwise, swear by. It more than approximates a full scale meal and is a compelling excuse to stop by and down a few pegs while the cook inside roasts the beef to ones' desired specifications.
However, in the final analysis, what strikes one most about Olypub, is the sheer diversity of its clientele and its refreshing lack of pretensions. On a good day one can see come and go through the day, though not necessarily in succession, : couples in love or out of it conducting their matters, in between generous swigs of beer, Marwari traders boasting about their latest sting operations to lesser Bengali counterparts, lone poets and writers engrossed in staring fixedly at some predetermined point on the wallpaper and sporadically downing stiff whiskies or rums, earnest groups of wannabe management graduates, stuck up and snotty nosed, lecturing on economics and ethics (uneasy bedfellows them), three women and a peripheral man whose only role is to provide the women with an entry into Olypub (since the bar forbids entry to solitary unescorted women in the interests of the morals of its existing clients), groups of quizzers, winners and losers, after some gruelling exhibition of dilettantism at the Dalhousie Institute nearby, the Chowringhee yuppies self-consciously loosening their ties as they enter, droplets of sweat on foreheads and pink chins, a testimony to their sincerity and devotion to Mammon, the occasional 70's revolutionary, now potbellied and balding, seeking solace in alcohol which comforts, which helps one forget as well as remember, bibliophiles who subsist on rum and water, hunched over their priceless acquisitions from the second-hand book shops of Free School Street, and many, many more --- in short, a sample of humanity, which though unexceptional, provides enough material for contemplation to the lone observant drinker seated at the usual corner, the connoisseur of, if not drink, at least, the drinking experience.
It isn't a hip place, by no means. But that doesn't stop the women from getting there. After a particularly harrowing day in office, working, talking about football or politics, (sometimes both) - it is the place to unwind. You are likely to find an interesting cross-section of society once you are there.